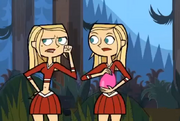 This page focuses on the interactions between Amy and Samey.
Amy is the dominant twin and usually only sees Samey as someone who can fulfil her needs, leading to Samey getting angry at Amy. After Amy's elimination, it is revealed that Samey could go on without Amy.
Samey and Amy's auditions:
In her audition,Samey is in her room and multiple 2nd place ribbons and medals are seen behind her,hinting that Amy always comes in first. This is confirmed by Amy in her audition when she says she was born first and that Samey has been coming in last ever since. It is clear that Amy disrespects and despises Samey even though they are sisters.
They are seen sitting next to each other on the blimp. And later in the challenge, Amy uses Samey's body as a human shield to hide from tennis balls.
The only difference between them, physically, is Amy's beauty mark.